King Khaled Ibn Abdul Aziz Al Saud
1913-1982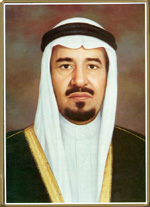 Born in Riyadh in 1913 (1331 H), King Khaled Ibn Abdul Aziz was brought up under the watchful eye of his father King Abdul Aziz Al Saud. This religious upbringing generally shaped his morals, actions and hence the way he ran the affairs of the country when he assumed power on the 25th of March 1975 (13/3/1395 H). Prince Fahd Ibn Abdul Aziz Al Saud pledged allegiance as Crown Prince when nominated by King Khaled.
Important Achievements:
He took part in military campaigns during his father's era, particularly at the time of the Taif Treaty. He was also appointed advisor to his brother Prince Faisal when the latter was Vicegerent of Hijaz. Later, he ran the affairs of the Governorate of Makkah Al Mukarramah on behalf of King Faisal. He accompanied King Faisal during most of his missions abroad. In 1934 (1353 H), he chaired the Saudi delegation during talks with Yemen at the Taif Conference, which culminated in the Taif Treaty between the two countries that same year. He was also appointed assistant to his brother Faisal at the 1939 London Conference on the Palestinian cause. In 1964 he became Crown Prince and First Deputy Premier, a post he held until 1975 when he assumed power in Kingdom. He also presided over the Council of Ministers, which has full organizational and executive powers. King Khaled Ibn Abdul Aziz Al Saud followed the policies of his predecessor, King Faisal Ibn Abdul Aziz Al Saud, particularly as regards protection of the State, adherence to Islamic teachings and adherence to by the charters of the Arab League and the United Nations.
During his era the Kingdom achieved tremendous economic progress and comprehensive development:
King Faisal University in Dammam and Ummul Qura were established.
The Grain Silos and Flour Mills were set up.
The Kingdom's wheat production exceeded its consumption.
The Ministry of Industry and Electricity was founded to upgrade the Kingdom's industry.
Hospitals, the Army and National Guard witnessed rapid development.
King Khaled Ibn Abdul Aziz Al Saud paid special attention to the Palestinian cause and supported Islamic solidarity. He was awarded the King Faisal International Prize for Service to Islam. The fifth Islamic Conference was held in 1981, during King Khaled's reign. He died in 1982.